Chat with the bot to create, find, and update Jira issues with the Command Line Interface (CLI)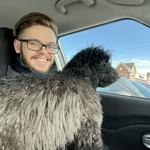 Updated by Brandon Marella
Using commands to interact with Jira from Microsoft Teams is a real time saver. Use these commands to up your integration game and wow your colleagues with your time-saving skills.
What to know:
You can interact with the app directly or in channels where the bot is invited.
You can type help to the bot at any time to get a reminder of the command syntax.
Accessing the Bot in Microsoft Teams
Press the Chat shortcut on the left navigation bar.
Select the Jira Integration+ chat to directly speak with the bot.

You can also use the Jira Integration+ chat app (As shown below)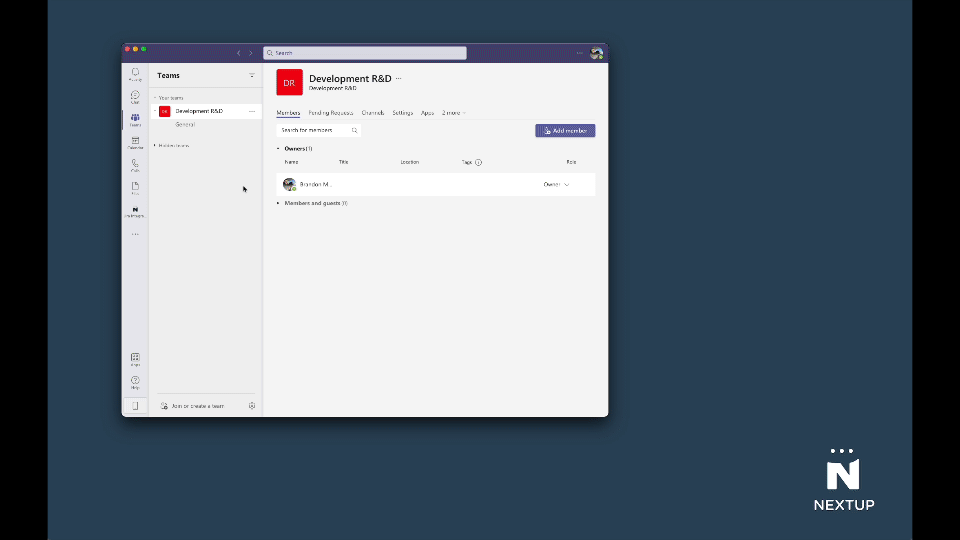 Get syntax reminder with help command
Simply entering the command Help will display all currently available commands from the bot.
Expand issue information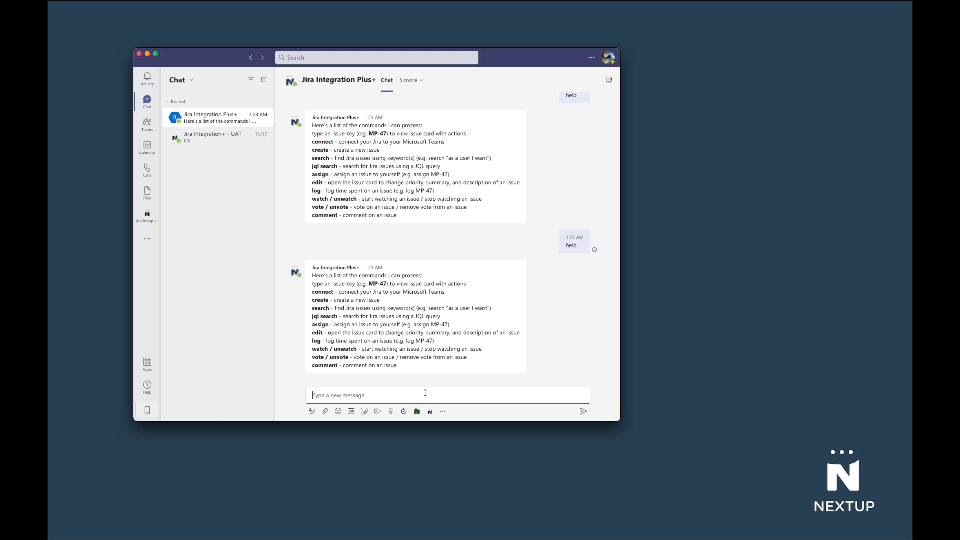 Send a message in Microsoft Teams Bot Chat that includes one or more Jira issue keys.
Create issues
The simplest way of creating a new issue within the bot chat is to type the command create and then click the link the bot shares.
Add a comment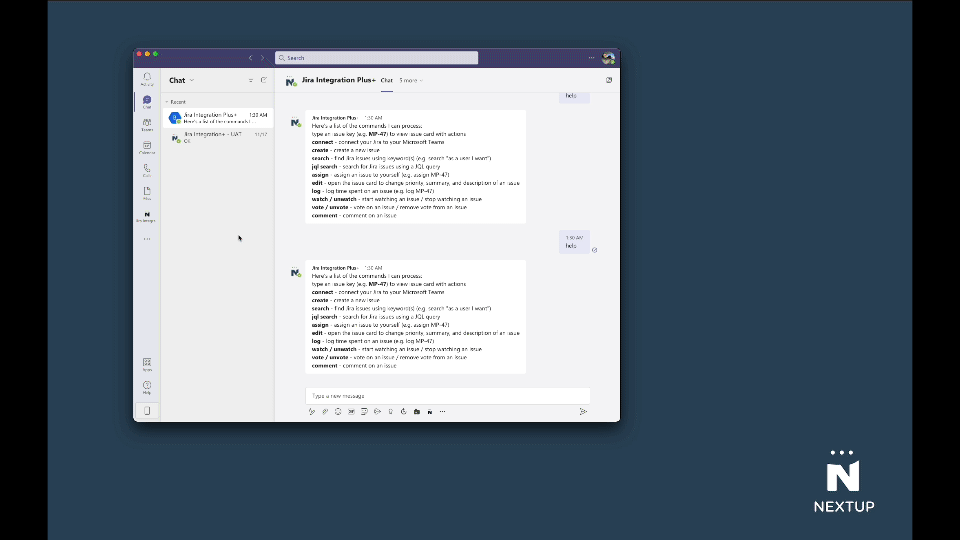 Type the keyword comment
Type a Jira issue key (i.e. DEMO-124)
Enter your comment
Example: "comment DEMO-123 Do we want to have this ready before launch?"
Log time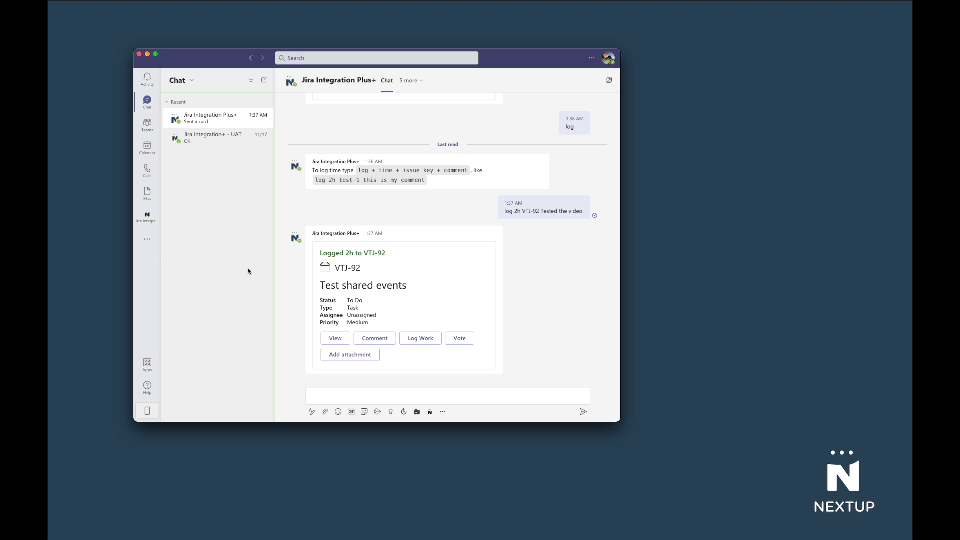 Type the keyword log
Type the amount of time - i.e 2h, 1w, 1d, 2.5h
Type a Jira issue key (i.e. DEMO-124)
Enter a comment (optional)
Example: "log 2h DEMO-123 Got this wrapped up for the show tomorrow."
Search for issues
Search for included text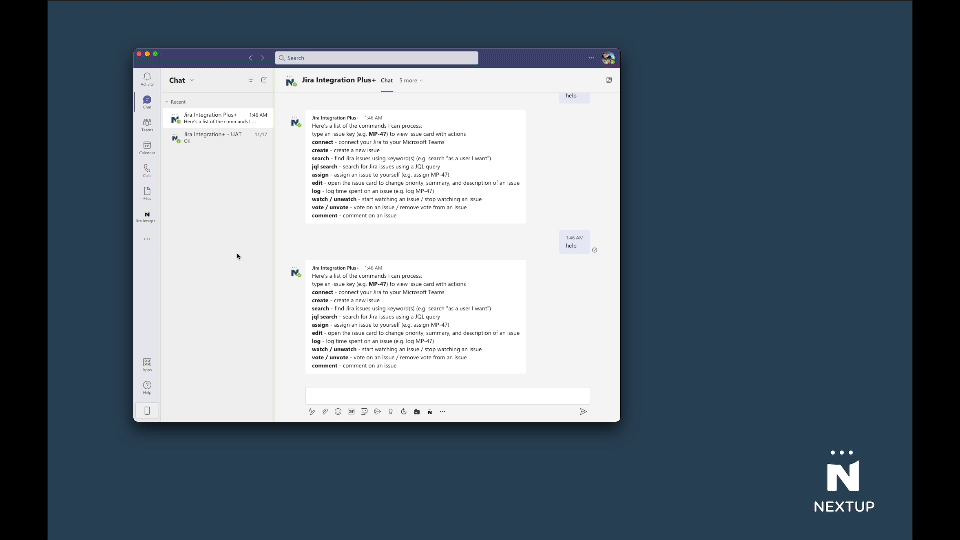 Type the keywork search.
Enter a phrase that's included in the ticket you are looking for.
Example: "search David's Timber Service demo"
Search by advanced (JQL)
The JIRA query language (JQL) allows for complex issue searches. This is how you can create queries in JIRA and then utilize them with Nextup. You can write JQL formatted messages directly in Microsoft Teams or create them in JIRA and copy the syntax into Microsoft Teams.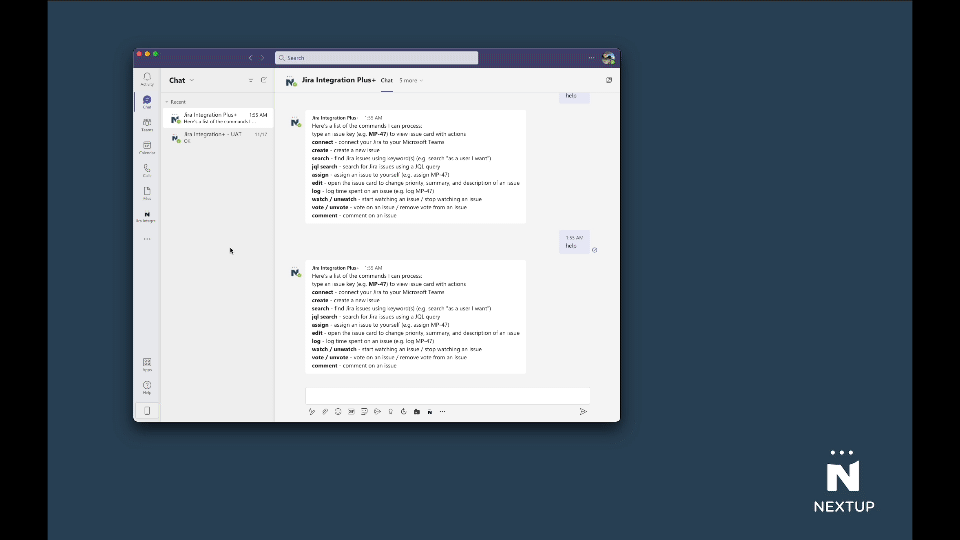 If you are writing your own query.

Type the keywords jql search.
Enter the JQL that you wish to use for the search command.

If you are generating the JQL via Jira

Login to Jira and go to Search Issues
Create your search via the basic or advanced tabs.
Copy the JQL from Jira (if using the basic search you will need to switch to JQL).
Type jql search and paste the JQL from the above step.
😠 Nothing happens when I try this!
If you are experiencing issues with the bot, and are sure it's installed. Please do not hesitate to reach out to us.