Get Notifications from Microsoft Teams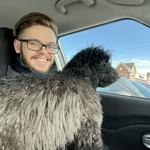 Updated by Brandon Marella
What to know:
The Integration+ bot needs to be in the Team when you are configuring a channel
The bot works best when added to public channels within a team
Example use cases
Notifying the operations teams of production incidents
Keeping track of priority support issues
Finding issues that need to be assigned
Adding the bot to your Team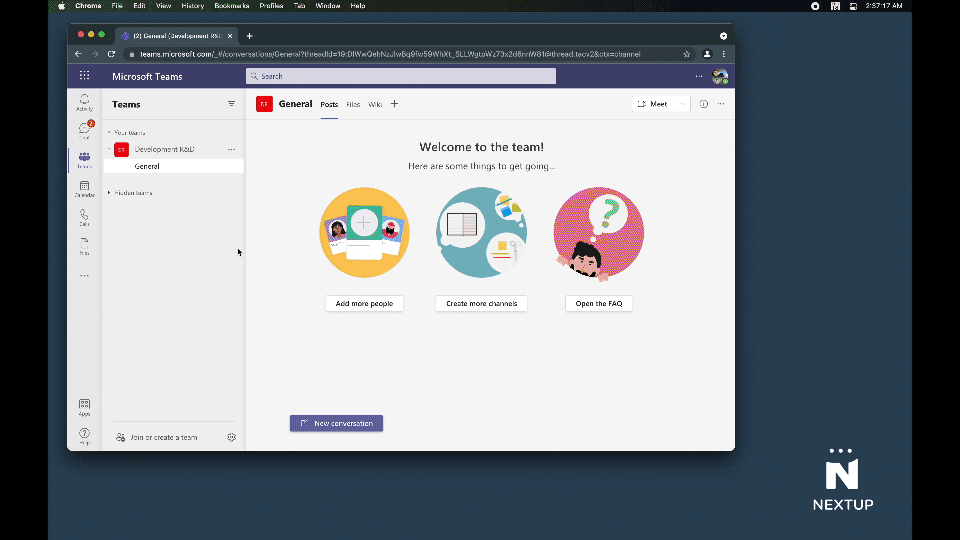 Note: Jira Integration+ bots are only fully supported by Microsoft when added to public channels.
To Add Jira Integration+ to a Team
Press the "..." next to the name of your team and press Manage Team

Navigate to the Apps tab

If Jira Integration+ is not already listed, press More Apps on the top right.

Search for Jira Integration+ and select the Nextup App.
Press Add

If Jira Integration+ is already listed, then you are all set and ready to move on!

Now to add Integration+ to the team, navigate to the Apps tab on the left.
Search for Jira Integration+ and select the app.
Press the down arrow next to Open and select Add to a Team
Enter your teams channel name and select it from the drop down.
Configure your bot to your preference then press Add.
Accessing your bot's configuration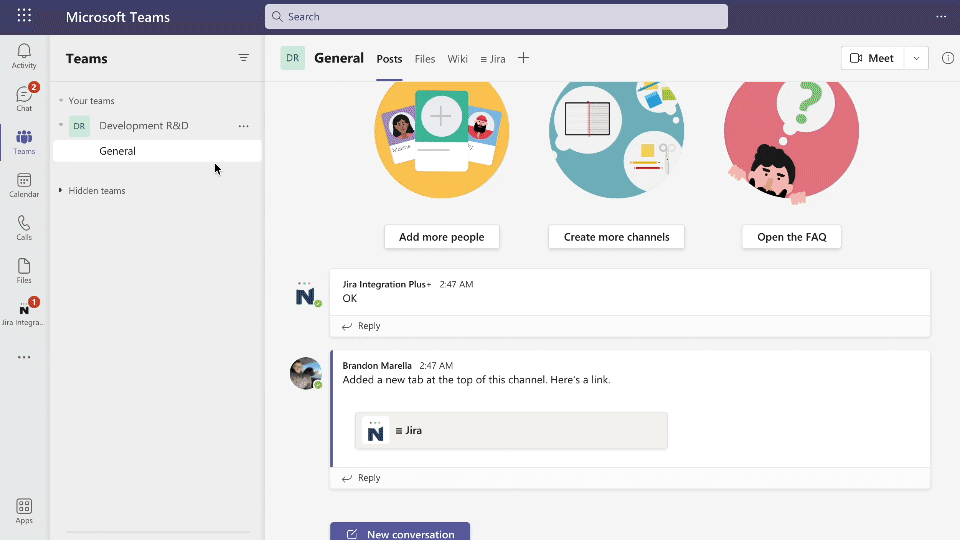 Next to your channel name in your team, press the "..." and then press Connectors.
Search for "Jira Integration+" and press the Configure button.
Within this menu, you can modify and customize exactly what notifications you want to be present.
Configuring your bot
The following configuration options are for channels.
You are not required to configure your bot, but doing so will unleash its full power.
Configure Notifications
The following options are available for channel notification configuration: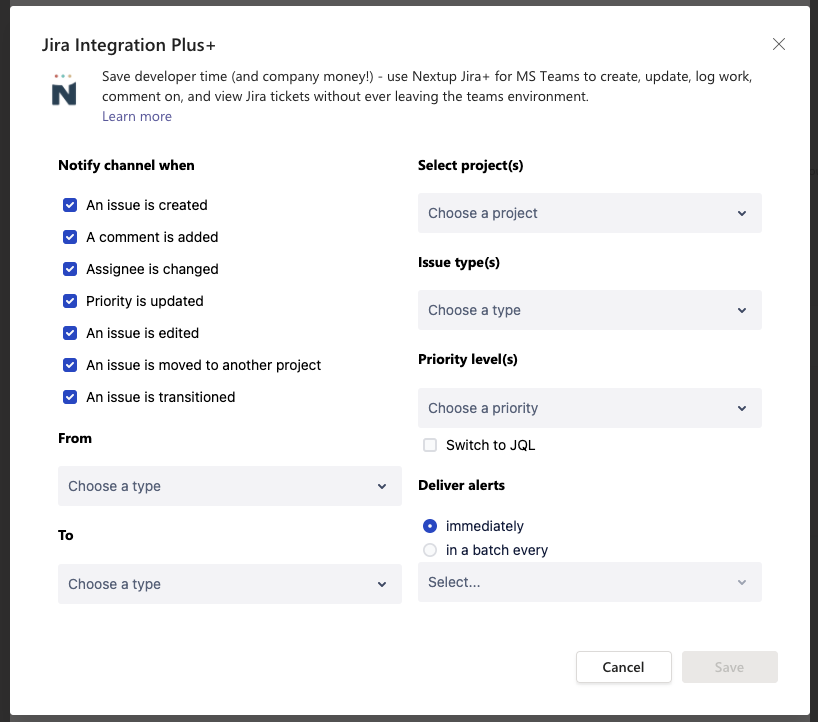 Projects, Issue Types, and Priority
Start typing in each control. The bot will respond with suggestions based on text you enter.
You can select multiple projects, issue types, and priorities. The bot will monitor Jira and generate notifications based on these channel settings.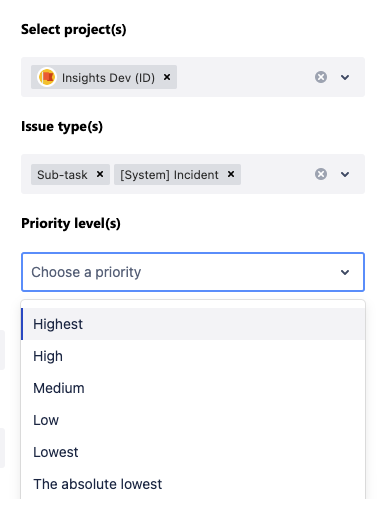 Advanced Features
Click the Switch to JQL toggle below Priority Level(s) to enable JQL-mode.

The following view allows the granular control with JQL syntax.
You can enter any valid JQL syntax into the first text box.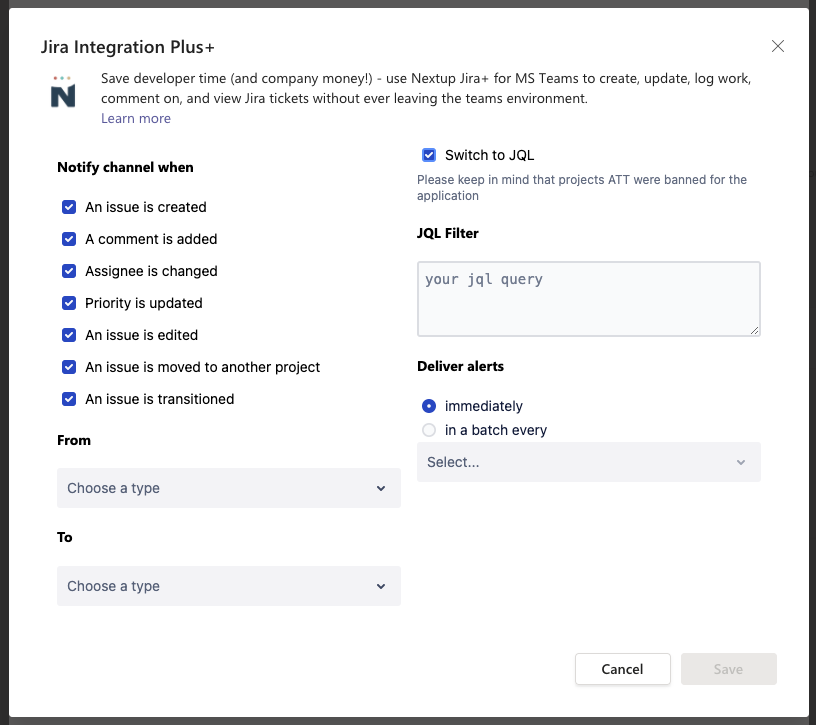 Issue Transitions
This control allows notifications based on issues transitioned between Jira status value.
Note: The following sections are based for the base notification settings.
Click individual Jira actions under "Notify channel when..." that this channel's bot should react to.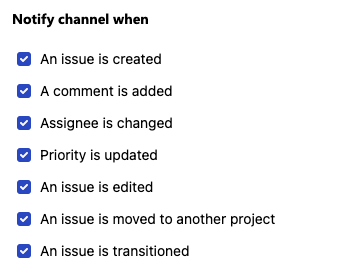 Select Delivery Frequency
You can configure the channel's bot to respond to Jira actions individually and immediately, or on an interval.  Interval settings allow message to be bundled and displayed together.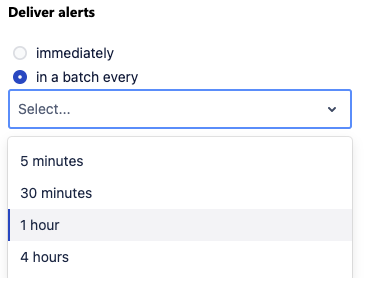 Removing a bot from a Team
Press the "..." next to the name of your team and press Manage Team

Navigate to the Apps tab.
Press the Garbage Can icon on the app you wish to uninstall, then press Uninstall.